Get the ultimate account access when and where you need it. With the First Bank of Bancroft Mobile Banking App, you'll have all the features and convenience of a full service bank right in the palm of your hand.
When using the free app, you will use the same user name and password as you would using the online website.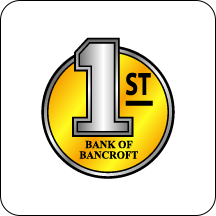 Download the First Bank of Bancroft's Mobile Banking App for the iPhone®, iPad®, and/or your Android Device.
Search for "First Bank of Bancroft" in the App Store or in Google Play to download.
If you wish to make a change to your login or accounts, please contact us at (402) 648-3361.
Username and password information may be deleted upon request. Information such as your usage history, account information, and banking activity will be retained in compliance with regulatory guidelines.
You may contact us regarding delete data requests and/or correction requests by calling us at (402) 648-3361.